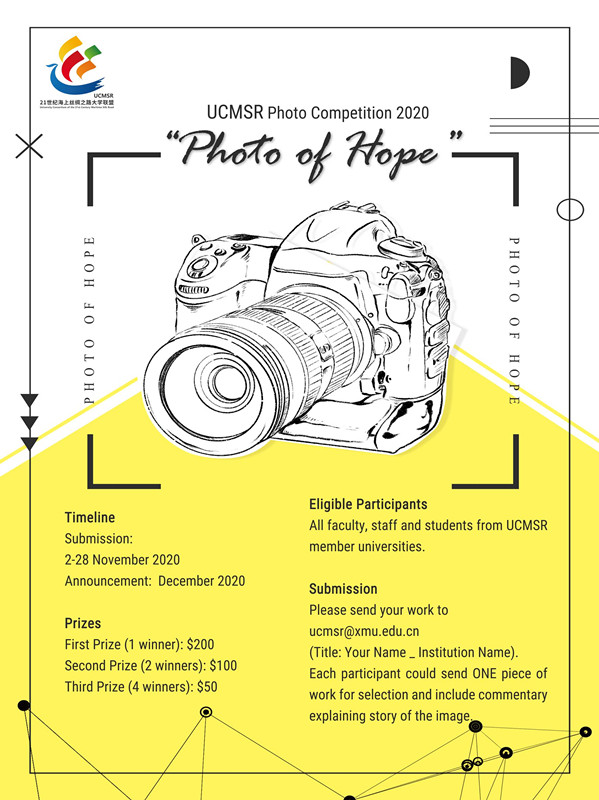 2020 is a challenging year. To further promote positive spirit and enhance the connection and cohesion of UCMSR members, the Secretariat hereby host the Photo Competition "Photo of Hope"
(1) Timeline
Submission: 2-28 November 2020
Announcement: December 2020
(2) Eligible Participants
All faculty, staff and students from UCMSR member universities.
(3) Prizes
First Prize (1 winner): $200
Second Prize (2 winners): $100
Third Prize (4 winners): $50
(4) Submission
Please send your work (using your university email system) to ucmsr@xmu.edu.cn (Title: Your Name_Institution Name). Each participant could send ONE piece of work and include commentary explaining story of the image.
(5) Evaluation
A panel of judges chosen by the organizing committee will select the winning photos based on artistic expression, creativity, originality and photo commentary. The evaluation process will adhere to the principles of openness, fairness and impartiality, and the results will be announced on publications and websites.
(6) Terms
1. All photography works should adhere to the theme of the contest and should be accompanied by a literary explanation. The photo submitted should be original and has not won awards in other competitions.
2. The participants need to be responsible for the copyright and right of portrait related to the submitted photos. The organizers have the right to use any photos submitted. For the award-winning works, the organizers have the right to use them free of charge for exhibition, publishing and other activities.
3. The organizing committee of the contest owns the right of final interpretation to the rules and terms.